8th Annual Pediatric Neurology Intensive Board Review Course
27th – 29th July, 2023
Virtual
Pediatric Neurology Preparation Course for Board Exam is one of the Saudi Pediatric Neurology society ways to help future pediatric neurologists to achieve their goals and ensure high standard medical education. It's also a great opportunity for pediatric neurologist to review their knowledge and participate with their experience in this field.
Goals of the Course:
Help final board candidates to review essential topics in pediatric neurology
Exam-oriented course, including different exam modalities (e.g.OSCE, MCQ, slides)
General tips to pass exam.
Intensive Review Course for pediatric neurologists.
​
Pediatric Neurology Residents & Fellows
1000 SAR / Resident & Fellow
Dr. Matar Alsehemi +966 53 187 6905
Dr. Aisha Alnuzhah +966 53 233 4141
Day 1, Thursday 27 July,2023
Day 2, Friday 28 July,2023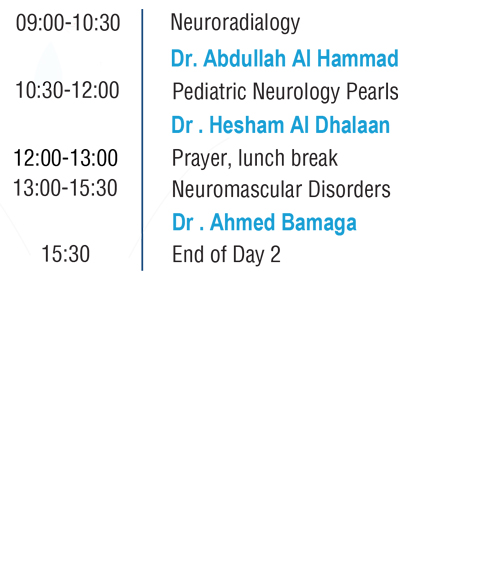 Day 3, Saturday 29 July,2023